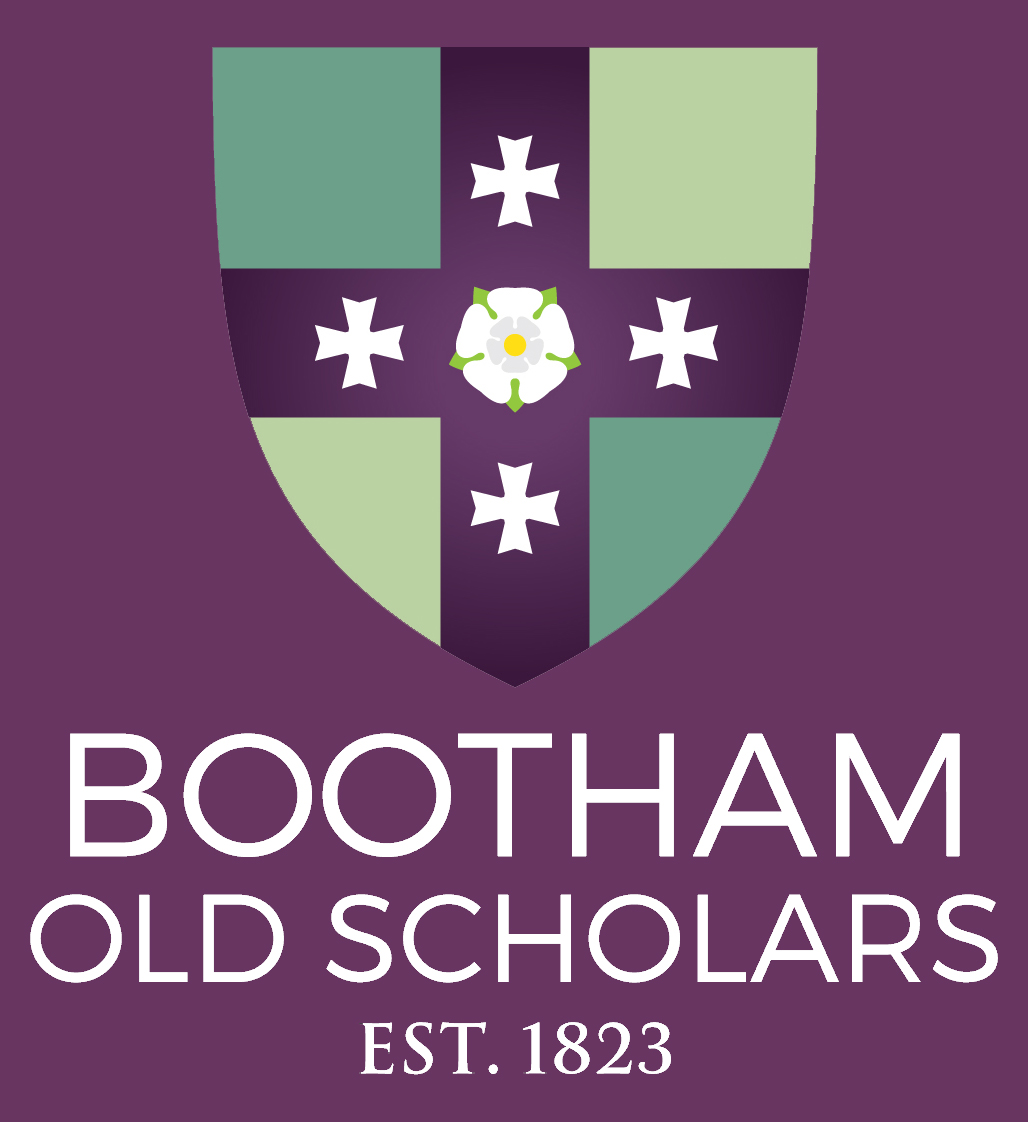 Bicentenary Merchandise
Monday, June 19
Our merchandise will be available to buy at the Bicentenary Reunion on 24 June:

Mugs £25
Bags £15
Coasters £10


Bicentenary Reunion Programme
Tuesday, May 2
Bicentenary Reunion Programme

Time

9 00 – 9 30 Reflect 30
Meeting in the Hall for...
Farewell to Gill Simpson
Tuesday, November 29
We received the following from Ruth Crabtree after the magazine deadline had passed.

Gill and I very nearly did not meet. As I sifted my way through...
The Friends Ambulance Unit in WWII
Tuesday, January 25
The Friends Ambulance Unit in WWII

Michael Rutter's (B: 1946-50) cousin, Antony Barlow, has edited a beautiful new book about Quaker experience...
Bootham Old Scholars (mainly) 1968: 'A slice of contemporary history'
Monday, January 17
When lockdown meant we had to cancel the 2020 May Reunion, a group of (mainly) 1968 leavers held an on-line reunion to share memories of Bootham and experiences...
Bootham Proud Giving Day 16-17 March 2021
Sunday, March 14
Josephine Peach in celebration of Dr Francis Jackson's 103rd birthday
Wednesday, October 7
Jo Peach and Amanda Crawley (a regular contributor to our Thursday Recital Programme) performed together as part of the celebration of Dr Francis Jackson...
Congratulations to Lucy Stirland (Moran) (B: 1998-2005)
Tuesday, October 6
Lucy is working in Edinburgh as an old age psychiatrist and has recently taken time out of her NHS training to work on research at the University of Edinburgh....
Tom Crosbie (B; 2003-09) hosts radio show
Tuesday, October 6
Tom is now hosting a radio show on Jorvik Radio, every Sunday at 11pm.
On 94.8FM if you're in York or listen online
https://jorvikradio.com/
...
Reflect 30
Wednesday, September 30
Join our virtual Reflect30 on Saturday mornings at 9am. Find a quiet, comfortable place to sit and join us for 30 mins of companionable Quaker silence...
Josephine Peach in concert
Tuesday, September 22
Dominic Bielby (B: 2011-18) - work published in Per Incuriam
Monday, September 21
Dominic Bielby's first piece of academic writing has been published in Per Incuriam! Taking up a topic he found extremely interesting in Tripos, his...
John Brooke Fieldhouse (B: 1961-68) - The Hidden Apartment & Other Stories
Monday, September 21
(John) Brooke Fieldhouse's second book THE HIDDEN APARTMENT & OTHER STORIES was published in August 2020 - hardback by Matador Books, debut novel...
Congratulations to Bootham Old Scholars 2020
Monday, September 21
Parents' Day 2020 - Thank you to Peter Openshaw
Monday, June 29
During parents' day this weekend, three sixth-form students from Bootham School gave an on-line presentation about their Covid19 research project....
Mike Shaw - summer solstice
Monday, June 22
Mike Shaw's recorded a short slide show and audio diary in his occasional astronomy podcast series – Saturday was the longest day of the year:...
Old Scholar, Guylaine Eckersley, at The Royal Academy of Music
Tuesday, June 16
Old Scholar, Guylaine Eckersley, is studying at the Royal Academy of Music, and shared a lock-down performance with her fellow students in the Bassoon...
Andy Allinson: Music is the Answer
Tuesday, June 16
Old Scholar, Andy Allinson, has been a regular contributor over the past years to our Recital Programme and we're looking forward to hearing from him...
Virtual Recital Programme - 25 June
Monday, June 15
Old Scholars, Isaac Vohra, Meredith Armstrong and Maria Winter, are performing for us on 25 June. Join them via the Bootham School facebook page at 1...
Virtual Recital Programme - 2 July
Monday, June 15
Old Scholars, Oliver, Louis and Benedict Baily are performing for us at 1 15pm on Thursday 2 July. Join them via Bootham School facebook
Ta(l)king Action: Coping with uncertainty - a talk by Harriet Ennis
Wednesday, June 10
Harriet is supporting the University of York's on-line Festival of Ideas with a talk about psychology.
'The state of your mental health can...
Looking at the moon with Mike Shaw
Wednesday, May 6
The full Moon at the end of this week is going to be a super moon, so a little closer, a little brighter and a promise of warm clear nights. Mike Shaw...
Recital Archive
Friday, May 1
Recital Archive - Richard Burton and Josephine Peach

We are very grateful for the link to a recording of a duet with Richard Burton and Josephine...
Virtual Recital - Thursdays at 1 15 pm
Tuesday, April 28
We are delighted to announce we will be running a virtual version of our Recital Programme during this half term.

Performance poet Harry Baker,...
King's College London Quarantine Art Exhibition - Charlotte Ellery (B: 2009-16)
Monday, April 27
At the end of March, Charlotte Ellery launched the KCL Quarantine Art Competition. It was originally designed for Classics students and staff who needed...
Bootham Community Choir
Friday, April 24
Fancy a sing-a-long to lift your spirits? Why not join the new Bootham School community choir? The first meeting of the new 'virtual' choir will...
A tour of the night sky with Mike Shaw
Friday, April 24
Our astronomy teacher extraordinaire Mike Shaw is offering you the opportunity to explore the stars. Mike has very kindly recorded a short wander around...
Reflect 30 - join us for virtual Bootham Meeting for Worship
Wednesday, April 22
We are holding our first Bootham community virtual Meeting at 9 am on Saturday 25 April. This is open to all Old Scholars (as well as parents, staff and...
Exploring the places in between - James Marr (B 1973-79)
Wednesday, April 22
For those of us who are dreaming of holidays, have a look at James Marr's website for his articles and photographs based on his extensive travels....
Useful links
Wednesday, April 15
Here are some useful links for:
NHS workers in London
Old Scholars who may be furloughed
Those looking for volunteering opportunities

For...
Fergus du Plessis (B 2015 - 2019)
Friday, March 13
Fergus du Plessis celebrating the Festival of Holi, which anticipates the coming of spring and colour in the Gorkha province of Nepal.

Fergus is...
Peter Kurer (B: 1947-48)
Monday, March 2
Peter was awarded the M.B.E this New Year in the Queen's Honours list, for his contribution to Holocaust Education.

Peter was born into a...
Philip Clark (B: 1985-88) published new book 'Dave Brubeck: A Life in Time
Tuesday, October 13
Philip Clark has published a new book about jazz pianist Dave Brubeck.

BBC Music Magazine gave a 5* review: 'An articulate, scrupulously researched...
Jonathan Taylor (Ex-Headmaster)
Tuesday, February 25
It was lovely to welcome back ex-Headmaster Jonathan Taylor today in school. He was very proudly sporting our lovely new 'George Fox' as well as...
Bootham Old Scholars return to MFL department
Friday, January 31
The MFL dept was delighted to welcome Toby Holder (B: 2011-2016) and Igor Ljepoja (B: 2014-2016) back to talk to German students about their experiences...
Joe Alexander Shepherd (B: 2003-2010)
Wednesday, January 29
Old Scholar Joe Alexander Shepherd will play in aid of the Charlie Gard Foundation at the National Centre for Early Music, York, on March 7.

Joe...
David Wilson (B: 1997-2000)
Monday, January 27
Old Scholar David Wilson has set up the charity
Building Budland
, which is for the relief and assistance...
Proud of Bootham?
Monday, January 27
We are very proud of our Bootham community and it's always a pleasure to welcome Old Scholars, former members of staff, and past and present parents...
Fellows Coffee & Mince Pies
Monday, January 27
It was wonderful to see so many familiar faces, along with some new at our annual Bootham Fellows coffee and mince pies, and sad to remember those friends...
North West OS Reunion
Monday, January 27
Old Scholars in the North West met in October.

Attendees in the photograph include J C David Allen (B: 1952-1956), Bryan S Holmes (B: 1945-1949),...
George Winfield (B: 2005-12)
Thursday, October 10
October 10, 2019
Congratulations to Bootham Old Scholar, George Winfield.
George's company,
SPYRAS
...
Tom Parsons (B: 2008-2015)
Monday, January 27
Old Scholar Tom Parsons return to the MFL department to give an account of his Chemistry degree at Durham University. Tom spent his gap year in Wurzburg,...
The Recital Room
Monday, January 27
This month saw the return of the Recital Room programme, opened with a beautiful performance from Josephine Peach, pianist (Music Teacher B: 1982-2011)...
Maddie Pope (B: 2011-2018)
Tuesday, September 10
Old Scholar Maddie Pope left College II last year and spent her gap year in South America. She applied for and received the Openshaw Bursary from school...
Elizabeth Banks (B: 2001-2005)
Monday, January 27
Betty wrote to us to let us know that she successfully defended her PhD thesis in history at New York University in June 2019, and that from this month,...
Richard Burton
Tuesday, August 6
In Loving Memory of Richard Burton

It is with immense sadness that we have to share the distressing news that our colleague and friend Richard Burton...
Leavers Supper 2019
Monday, January 27
Saying farewell to the College 2 students is always hard, but they are moving on to their next adventure and we wish them every happiness and look forward...
Old Scholars Reunion - London 2019
Monday, June 24
It was wonderful to see so many familiar faces at the recent Old Scholars' Reunion in London. Current Headmaster Chris Jeffery, Director of Development...
Jeremy Heywood (B:1973-1980) Memorial Service
Monday, January 27
Members of the Bootham School community travelled to London on Thursday 20 June, to attend the memorial service for Bootham Old Scholar Jeremy Heywood....
Annual Reunion 2019
Wednesday, June 12
Another fantastic weekend at the Bootham Old Scholars Annual Reunion. Always fun to reminisce and catch up with everyone! From the evening buffet on Friday,...
View all as list